Titel: The Witch's Sabbath
Utgivningsår: 2005
Regissör: Jeff Leroy
Medverkande: April Betts, Ron Jermey m fl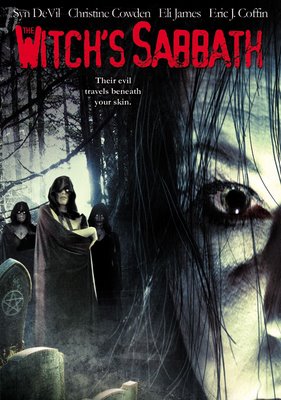 Stefan Särnefält (2006)
I förra nyhetsbrevet utlovades en recension av The Witch's Sabbath med Ron Jeremy. Jag skulle ha nöjt med den korta innehållsbeskrivningen som jag gjorde där. The Witch's Sabbath är förmodligen den sämsta skräckfilm som någonsin gjorts. Påminner mer om en dålig hemmavideo än en vanlig spelfilm. Tror till och med att Mr Jeremy själv undviker den i sitt cv (om han mot förmodan behöver något). Jag var helt enkelt tvungen att snabbspola mig igenom för att inte lida alltför stor skada med risk för att missa några skratt på vägen. Låt er inte luras av omslaget. Det här är en rulle ni gör gott i att inte befatta er med.